Whistleblower Hotlines And The Value Of Having One For Your Business
Whistleblower hotline services are an essential solution for many employers but especially for those with Corporate Governance responsibilities. In accordance with the Whistleblower Protection Act of 1989, individuals can choose to bring information or allegations forward without the fear of retaliation.
Employees have the right to file complaints and having effective reporting tools assists in fostering a work environment that reflects integrity and responsibility.
Below is a listing of the benefits of implementing a confidential whistleblower hotline for your business.
How can a whistleblower hotline benefit your business?
Having a confidential whistleblower hotline is a way to strengthen the trust of your employees. This type of system assists corporations with reducing risk because management is able to gather information sooner than later, enabling them to address issues ahead of time.
The truth is, there are many managers who aren't aware or really understand the value of a whistleblower hotline. Also known as an ethics hotline, these systems increase the chances of catching fraud and they are the most common means of detecting a wide variety of violations.
Simply put, a whistleblower hotline can provide you with the following:
Compliance With Regulatory Policies — The presence of a confidential whistleblower hotline can assist with monitoring adherence to its own policies, by encouraging staff and third parties to report their concerns.
Risk Reduction —Information received through a confidential whistleblower hotline can alert management to inappropriate or illegal behavior and help them take action in order to reduce losses or avoid law suits.
Complete Anonymity And Confidentiality— Whistleblower hotlines should be set up to ensure complete anonymity and confidentiality to all parties, including but not limited to the company's employees, vendors or others who want to report concerns or leave sensitive subject matter information.
External Management — Whistleblower hotlines can also be outsourced to third party providers, such as a call center that specializes in employee hotlines. In addition to cost savings, call centers are staffed 24/7/365 to ensure availability whenever an issue arises.
Support for Ethical Values— The presence of a whistleblower hotline can improve the credibility of a business and increase employee trust and confidence. These types of hotlines are essential in building the healthy company culture.
A Confidential Way For Employees To Present Issues To Management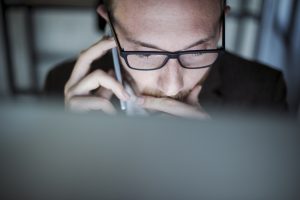 As described above, the best way to define whistleblower hotlines is as a dedicated telephone number that is available for employees to bring to light issues of a sensitive nature to management's attention.
Information gathered during these types of calls are completely confidential and professional call agents are available 24/7, ready to support any caller. As such, a whistleblower hotline has proved successful for many businesses, becoming an effective tool in detecting problems and increasing the likelihood of early detection and response to discrimination of harassment claims.
Outsourcing Your Whistleblower Hotline To A Professional Call Center
Now that you know the benefits of having a whistleblower hotline, it's time to see the benefits of outsourcing it to a professional call center.If you already have an internal whistleblower hotline, you should know the following . . .
The main challenge associated with internal hotlines is the lack of employee confidence, which often makes them ineffective. With an external whistleblower hotline, you can very well increase the volume of calls and also increase the chances of employees reporting any wrongdoing in your organization. Reports can give you a better chance of improving the work place environment which prevents harm to your staff, brand and/or customers.
At Employee Hotlines, we are the conduit between your organization and your workforce — assisting you with being proactive, compliant and building employee trust. With our professionally certified team of call agents, businesses can improve their intelligence, reduce their costs, motivate employees to speak up about any problem and stay compliant with laws and regulations. At the end of the day, we believe that employees are the first line of defense for every business. Without confidence to raise their concerns, you can't expect them to reveal important issues.
For more information on outsourcing your whistleblower hotline, contact us today! 877-777-6443