WHAT WE DO
Be There When People Need You Most
Our 24/7 Crisis Hotline is often used as a courageous first step for those who need help or have concerns.
Our professionally certified call agents are here to lend a calm and empathetic voice to those who are in crisis or require immediate assistance.
We know that managing a crisis hotline is not something everyone can do and is challenging. Therefore, our experienced live agents provide professional and confidential crisis call answering, ensuring that every caller receives rapid yet calm service.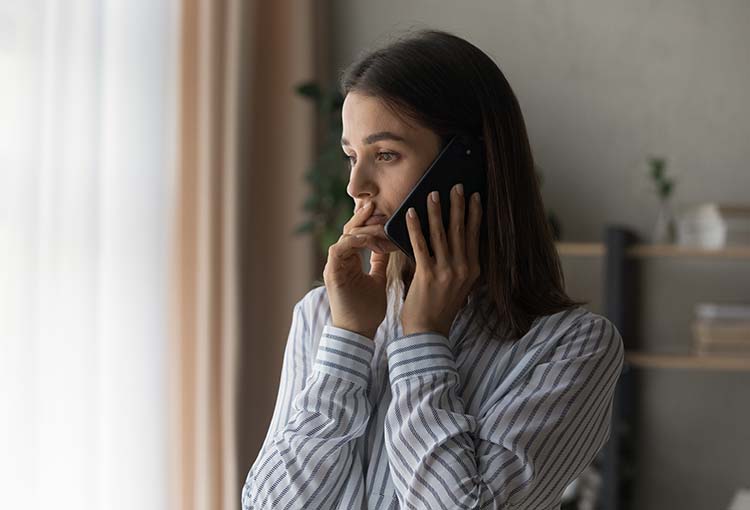 Be Available Anytime For Crisis And Emergency Calls
When it comes to emergencies and crises, callers depend on you and your time. Now, you can rely on us and our professional crisis hotline call answering solutions. In addition, our Bilingual staff is available 24/7/365 to support those callers in need who speak Spanish as a first language.
We will connect directly to your on-call support staff or refer to your EAP program. We provide a safe, non-judgmental environment so callers may speak freely, which assists us in determining the best course of action based on your custom call script. Most importantly, we ensure a timely response – our goal is to minimize the reaction time between receiving the call and transferring it to the right person in your organization.
Privacy Protection
From suicide prevention to EAP dispatch, our team is experienced in managing these types of calls. Because of that, we preserve complete anonymity and only gather the information that you request before transferring any crisis call. In addition, our call scripts can be customized to your unique specifications or the types of calls that you receive.
We can record and monitor calls, making each of them accessible to you at any time. Our professionalism and the level of compassionate care are essential when it comes to dealing with crises.
Our Crisis Hotlines Are Confidential And Professional
Call us today and learn more about how our Crisis Hotline service can support your employees and your community. 877-777-6443
Common uses for a Crisis Hotline:
Community
Disaster Response
EAP (Employee Assistance Program)
Friendship Line
Suicide Prevention
Veteran Affairs Support
Let's Get Started
Check out what are clients are saying about us:
"Good support team. Any time I have called in with a question or a change, I have received helpful, friendly, and prompt assistance.

Karen F.
Employee Hotlines
Absentee Management and Employee Reporting Services
What Is It?
An Employee Reporting Hotline is a dedicated telephone number that is available 24/7/365 for employees to call and report their absence, tardy or FMLA updates.
How Does It Work?
Our professionally certified call agents will gather your specific information then dispatch the message to the appropriate shift supervisor/department.
Features & Benefits
An Employee Reporting Hotline helps to minimize employee disputes, eliminates guess work, reduces work stoppage while increasing efficiency.
Custom Reporting
Our custom reports will help you improve your attendance tracking process. We can provide daily reports that will organize employee information to ensure accuracy.
Learn More About Employee Hotlines
Let's Get in Touch
LET'S TALK ABOUT A CONFIDENTIAL EMPLOYEE HOTLINE FOR YOUR BUSINESS!
GET STARTED NOW